VineArts
Thu, November 15, 2018: 6:30pm — 9:00pm
VineArts, an evening of local wine and local art benefitting Path with Art.
Savor your way through wine tastings and food pairings, vote on your favorite "mystery" wines from local wineries, and support the art community – all while surrounded by the beauty of Dale Chihuly's art at Chihuly Garden and Glass.
This year, guests will have the opportunity to purchase a hand-blown glass goblet, selecting from unique designs from four local artists.
For 2018, VineArts benefits Path with Art, a transformative, local, nonprofit organization. Their dedication to providing access to the arts for people recovering from homelessness, addiction, and other trauma offers a critical bridge to the community and a path to stability. A portion of proceeds from all sales will be donated through the Center Art Foundation, a subsidiary of the Seattle Foundation established to enhance the quality-of-life in our communities through support of the arts.
This is a 21+ event – ID's must be shown at the door for entrance for all ages.
$75 + tax & gratuity
2018 Wineries:
Passing Time Winery
Kevin White Winery
Dunham Cellars
Sparkman Cellars
DeLille Cellars
Avennia Wine
Goose Ridge Vineyards
And the 2017 winner....
Pepper Bridge Winery
Hand-blown glass goblets will be available for purchase at the event, and are designed by the following local artists: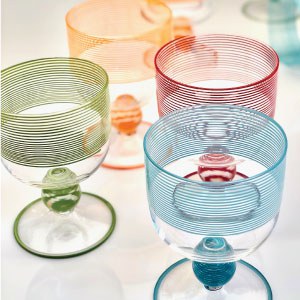 Two Tone Studios - Boyd Sugiki and Lisa Zerkowitz- Two Tone Studios' goblets will be available to purchase at VineArts for $200.

Two Tone Studios creates contemporary designed hand blown glass objects with a nod to the past. Husband and wife team Boyd Sugiki and Lisa Zerkowitz handcraft each unique design. Inspired by mid-century designs and colors, the work they create blends clean simple lines with a fresh color palette to produce beautiful handmade objects that people can live with each day and enjoy fully.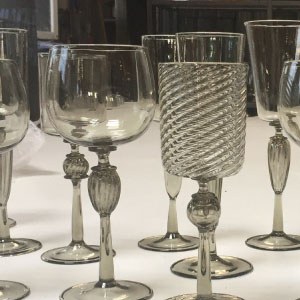 Granite Calimpong Glass - Granite Calimpong- Granite Calimpong's goblets will be available to purchase at VineArts for $230.

Granite grew up the son of a potter in Northern California; his hands were covered in clay long before discovering glass. Growing up in a household full of handmade objects fostered his lifelong connection to the subtleties of function and form through the scrutiny of everyday use. It continues to influence his practice as a glassmaker.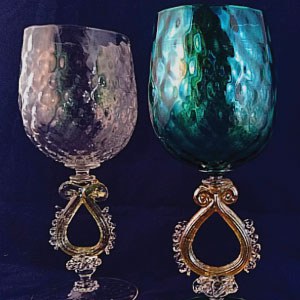 Richard Langley- Goblets from Richard Langley will be available to purchase at VineArts for $250.

Richard Langley began blowing glass as an apprentice to Michelle Kaptur in Bend, Oregon in 1997. In 2001, he moved to Florence, Montana and opened Cloud Cap Glass studios where he started a production line and taught glassblowing classes. Wanting to further his education and career, he moved to Seattle and has worked for various artists and production glass houses, along with building another glass shop to continue making his own line of blown glass.
This is a 21+ event – ID's must be shown at the door for entrance for all ages. Total price ($100.75) is inclusive of wine tastings, food, music, Exhibition admission, gratuity, and taxes.