Elevating Clean
The safety of our Guests and Team Members is our top priority, which is why we've made investments to implement the most effective, science-backed cleaning technologies and protocols available today.
We've made many changes to incorporate  redundant  layers of cleaning procedures – some you can see, some are done behind-the-scenes. What hasn't changed is the immersive and inspiring experience waiting for you at Chihuly Garden and Glass.
KNOW BEFORE YOU GO
As of May 14, 2021 and until further notice, all Elevating Clean protocols (including mask requirements) are still in effect. Stay tuned for changes as state and local restrictions and guidelines evolve. We look forward to seeing you soon!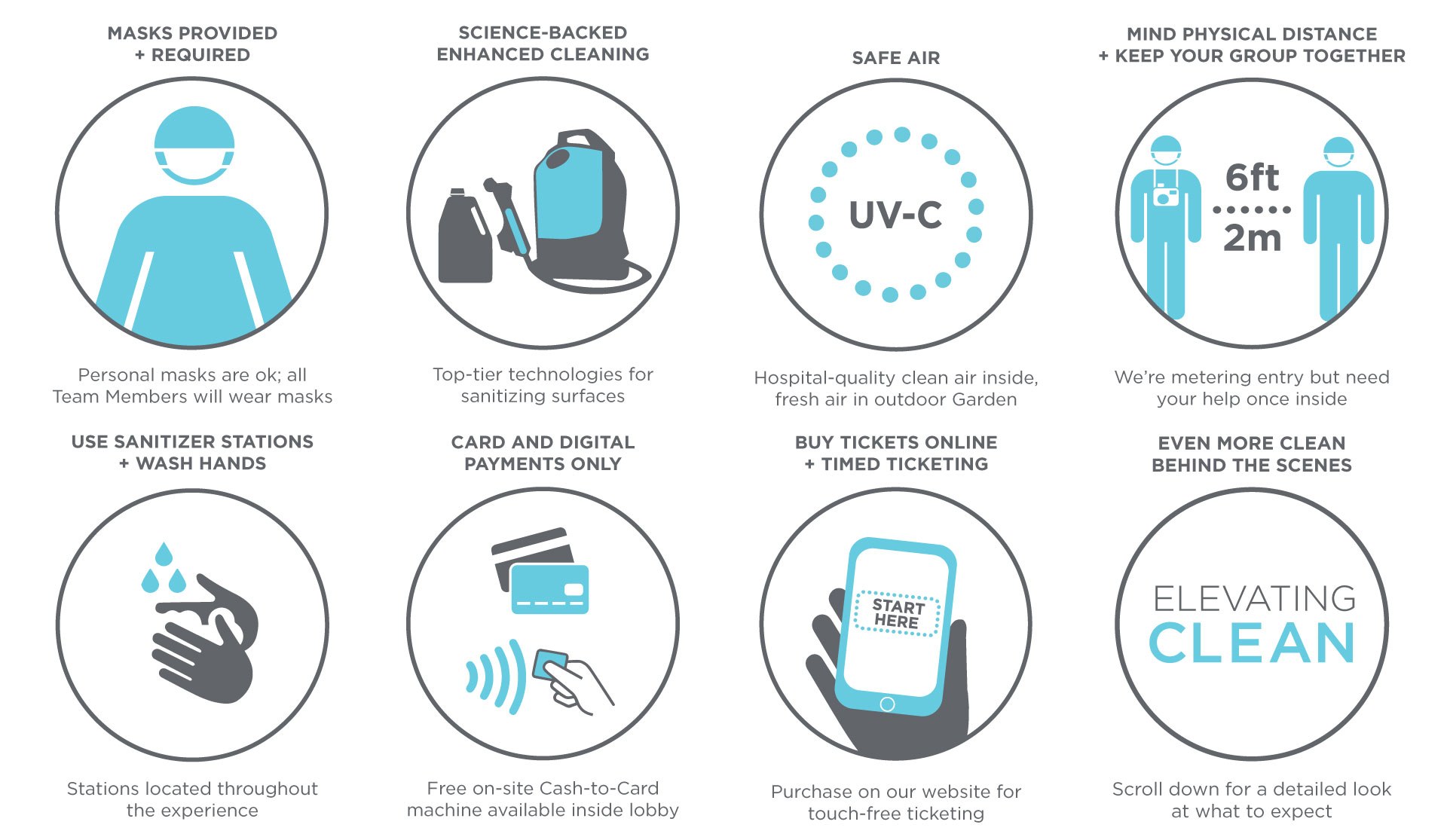 NEW TECHNOLOGIES AND PROCESSES
Stay Home, Stay Healthy
Team Members are instructed to not come to work if they have any symptoms of COVID-19, such as fever or cough, and will complete a health self-evaluation before they start every shift. We also request that any Guests who feel unwell or are experiencing any symptoms of COVID-19 stay home. Please contact us and we will transfer your tickets to another day or refund your purchase.

Masks Provided + Required
Per the Governor's mandate, masks are required to be worn in all indoor and outdoor public spaces. All Team Members will be wearing masks and every ticketed Guest will receive a mask upon entry. Personal masks and face coverings are allowed, but all masks must be worn properly, covering your mouth and nose.
Mind Physical Distance + Keep Your Group Together
Guests will purchase tickets for a specific time, which helps us limit capacity and allow the space for proper physical distancing. We ask that you help us by being mindful of others and keeping your group together to allow everyone space to enjoy the galleries, Glasshouse, and Garden. Look for the blue dots on the ground and signs throughout to help determine proper spacing.
Science-Backed Enhanced Cleaning
All our safety standards are scientifically backed and regularly reviewed. When it comes to disinfecting surfaces, we combine redundant layers of continuous daytime cleaning with a deep clean every night. This includes new products that disinfect 99.99% of germs in as little as 45 seconds and state-of-the-art UV-C light technologies.
Safe Air
Hospitals have used UV-C light for decades to reduce and eliminate viruses and bacteria. At Chihuly Garden and Glass, we also use UV-C disinfecting equipment to help keep the air inside as clean and safe as possible.
UV-C light works behind the scenes, disinfecting surfaces at night and cleaning the air all day through the HVAC systems. Plus, our Garden is completely outdoors and offers even more opportunities for discovery and surprise.
Use Sanitizer Stations + Wash Hands
Our team will continuously disinfect all areas Guests come in contact with, but you can help. To ensure your own health and safety, and that of others, wash your hands often and use the touchless hand sanitizer stations and sanitizing wipes found throughout Chihuly Garden and Glass.
Touch Less + Card & Digital Payments Only
Chihuly Garden and Glass is now cashless. For anyone without a credit or debit card, free cash-to-card machines are available on-site. There is no cost to get a card, and there are no fees to use the card (which can be used inside and outside of the Exhibition).
We've also significantly reduced the number of surfaces Guests will touch. In fact, it's possible to have an entirely touchless experience during your visit, especially if you purchase your tickets online.
Buy Tickets Online + Timed Ticketing
For the most seamless experience, purchase tickets online before arriving. Tickets can be scanned on your phone or mobile device and by purchasing for a specific arrival time, you can avoid waiting in line.
Redundant Layers of Clean
We've developed a redundant safety approach with "hospital-grade" equipment to deliver as safe an experience as possible for Guests and Team Members. The work doesn't stop there, though. Our team continually audits the experience to ensure everything is worked as it should, while staying informed about new technologies and policies for the most up-to-date procedures possible.
Learn more about these new guidelines, protocols, and equipment aimed at keeping everyone healthy throughout the Chihuly Garden and Glass experience:
Safe Disinfectants

Clean, safe surfaces are just one of the layers of our Elevating Clean program. Team Members frequently disinfect touchable surfaces and restrooms all day using the Peroxide Multi Surface Cleaner and Disinfectant from EcoLab. Approved for use by the Environmental Protection Agency (EPA), this product provides more intense cleaning – eliminating viruses in as little as 45 seconds – while being safe for Guests and Team Members.
Every night we employ another layer of surface disinfection. Using the Protexus PX00ES, a battery-powered electrostatic sprayer, a nontoxic cleanser is atomized throughout all spaces. Containing no VOCs, these magnetically-charged particles are drawn to surfaces, including hard-to-reach places, and kill 99.99% of bacteria and viruses.
UV-C Light
State-of-the-art UV-C light technologies play an important role in our new cleaning procedures.
UV-C light is powerful. It has been found to effectively kill bacteria and viruses, which is why hospitals have used it for many years to disinfect patient rooms, ICUs, and operating rooms.
These technologies create redundant layers of clean throughout Chihuly Garden and Glass, including:

Air Handling Systems: New SLX UV-C lamps clean the air with powerful light. Installed in the HVAC systems , the EncapsuLamps™ UV-C light will not reach Guests or Team Members, but constantly destroys bacteria and viruses as the air circulates. UV-C light was recently proven to kill the coronavirus, and studies show that UV-C light has a 95%+ first path kill of airborne pathogens.
Floor-to-Ceiling Cleaning: The Surfacide® Helios® UV Light Disinfecting Systems are portable UV-C machines used overnight. Remote-operated via a tablet for safety, the powerful UV-C light cleans and disinfects the air and surfaces in spaces using a laser map. Hospitals also use similar machines to assist with deep-cleaning.