Fire Up Your Holidays
Winter Brilliance
Launching November 17th and running through the winter season, Winter Brilliance will offer guests a brand-new original light and music installation. Using innovative video projection technology, this immersive installation was created to project onto the stunning Winter Brilliance exhibit, inspired by fire, ice, and the dramatic use of light. This seasonal sight serves to demonstrate Dale Chihuly's ongoing desire to innovate and exhibit his glass art in new and different ways.

Winter Brilliance was originally created for the Barney's New York flagship store in Manhattan in 2015 for their famous annual holiday window display. Installed at Chihuly Garden and Glass in 2021, Winter Brilliance features Chandeliers, Towers, Reeds, and Icicle Clusters - all using the icicle form. The glass installation is located in Gallery 1 and contains approximately 700 hand-blown glass forms.
The light and music component runs every day from November 17, 2022 - February 28, 2023 during regular operating hours.
"I've worked with ice several times throughout my career. It's one of my favorite materials, because of the way it works with light. It inspired me to create the icicle form." - Dale Chihuly
Opening Soon: The Bar at Chihuly Garden and Glass
The newly-imagined bar concept will offer craft cocktails and delicious bites in a one-of-a-kind atmosphere, where Dale Chihuly's personal vintage collections and private art collection will be on display.
More details coming soon!
Community Hot Shop
Warm up this holiday season with live glassblowing demonstrations at the Community Hot Shop and watch local artists create glass candy canes.
The Bookstore
Purchase a hand-blown glass ornament and give back to the Seattle arts community! A portion of the proceeds go to the Center Art Foundation, which helps fund local arts organizations, youth arts programs, school arts education, and scholarships for artists.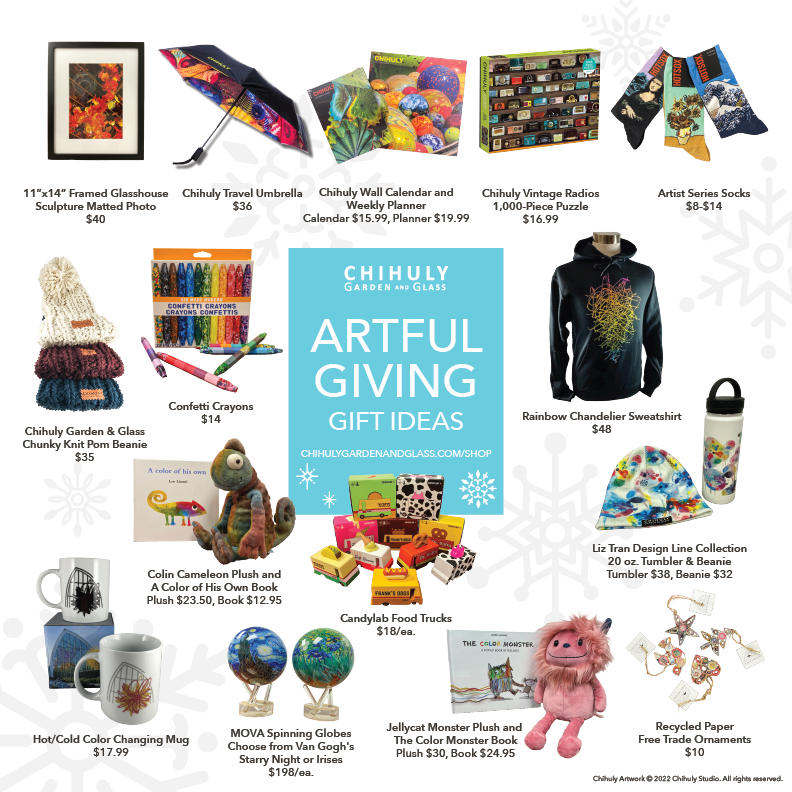 ART PLAZA
Relax in the outdoor Art Plaza while enjoying handmade stone-fired Neapolitan pizza with drink selections including beer and wine. While you dine, watch local artists host live glassblowing demonstrations at the Community Hot Shop.